ECONOMIC RECESSION: Duncan Mighty Flaunts Wad Of Pounds Sterling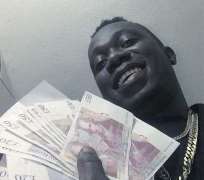 With the recent post of pop singer Duncan Mighty  holding a wad of crisp Pound Sterling notes on his Instagram page, one is convinced that the economic recession rocking Nigeria is not affecting everyone.
According to the singer, he was blessed with the foreign currency from his 'boss', who wanted him to launch his upcoming album.
"What a morning surprise. My boss called me and said I heard ur album is dropping on Friday I said yes he brought out 1k pounds and gave to me saying, make I launch am first before e come out…. Am using part of this first income from the certificate album to sow to one lucky needy today" wrote the singer.
Duncan Mighty is however set to drop his fifth album, titled 'Certificate'. The singer has equally released the official artwork and track list for the project.
The album is said to feature 19 tracks with an artistic front cover showcasing the singer's face.