My plan for hidden talents in Nigeria—Chioma Okoye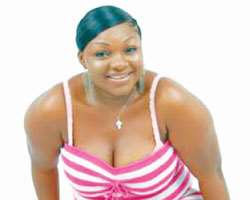 With a strong determination to give back to an indutry that made her, one of Nollywood's stars, Chioma Okoye, recently revealed her plans to discover and develop hidden talents in the country.
Okoye, who hopes to discover and help about three thousand talents, said, " I wish to say that the dream of catching them young and making them stars in the areas of movie- making in Nigeria is one of the strongest reasons for creating the Purple Ribbon ideas. I want to make Nigeria proud, just like Snoop Dogg, Beyonce and a host of other American artistes are doing for the United States."
The lucky winners, after a rigorous audition, will feature in a movie titled: "Girls in the little wood."
The movie, which will be directed by a South Africa- based Nigerian movie director will, according to Okoye, address some of the ills in the society, among other things.
"The choice of the foreign- based director is not because we couldn't find any good one here. But it was basically because we needed to add more international flavour to the production. The aim is to give it an international outlook while retaining the Nigerian background. It will feature top models and one or two prominent Nollywood actresses. We are looking forward to a change in the face of Nollywood through this movie."