DRUG ALLEGED: TONTO DIKE SLUMPS AT FILM LOCATION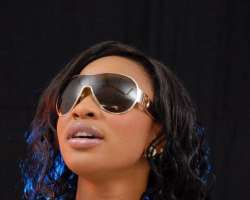 One of the sultry actresses that is making the Nollywood industry tick with her mesmerizing acting prowess, Tonto Dike, we gathered, slumped recently at a movie location in Asaba area of Delta State in Nigeria. The ugly incident happened a few days ago at a movie location the very first day she resumed for a movie directed by Chidi Chikere featuring Kenneth Okonkwo, Clem Ohaneze, Ngozi Ezeonu to mention but only a few. When the embarrassing act first started, reliable sources told nollywoodgists.com exclusively that she was just looking like a moron, gazing at the sky as if she was expecting the second coming of Jesus Christ.
Everybody at the location was so perplexed and disturbed and before one could say Jack Robinson, she was said to have suddenly slumped like someone Infected with epilepsy. In total disarray, she was revived after a while and they kept on asking her what the problem was but she never gave any concrete answer except that "I am fine, I am ok", we were told. The movie to be produced by Chez Production, we learnt, was thwarted by Tonto's act and had to be postponed till the major character, Tonto Dike, fully recovered from her 'sickness. Concerned friends of the pretty actress, Tonto couldn't make any meaning out of the whole scenario, some of them were of the opinion that she might have abused drug.
As if that was all, a few days later, after Tonto was confirmed fit to hit the location, she slumped again and was weak throughout the day. At this juncture, tension was so high at the location and they wanted to know what actually led to all this. While they were said to be carrying out their search, it was revealed to www.nollywoodgists.com that she never stopped her drinking and smoking excessively when she was supposed to be resting after her 'attack' then the entire cast and crew, we learnt, left her to her faith.
In a related scenario, last year summer in Amsterdam during Kwakwu Festival where Tonto was said to have been invited to the festival by her alleged 'lover, Michael, cousin to Oge Okoye's hubby, Duru, she was said to have also misbehaved at the NDEMILI CLUB where she drank to stupor and had to be helped home by two hefty men. The following day, it was confirmed by our sources in Amsterdam that Tonto also engaged in smoking drinking Hennessy mixed with marijuana at the Ground Café, the club Nkem Owoh a.k.a. Osoufia once performed and was disturbed by the Police. People who got to know Tonto to be one of the star actresses in Nigeria were said to have registered their regret and concern for the kind of lifestyle she lived when she was in Amsterdam.
"Even at the Joint African Stand where she came with a guy, she was just misbehaving, drinking and smoking at the same time as if those things were going out of fashion. I couldn't believe my eyes when I was told that she's one of the people that is supposed to affect their generation. It's a pity" An eye-witness exclusively told us. In a fact-finding mission effort was made to ask for Tonto Dike's side of the story and she has this to say "Yes, I did faint on set because I had been working for six days straight without sleep and I had to use Redbulls as food and strengthener. What's a big deal with Marijuana! There is something called Medical Marijuana. How would it be possible to get drunk at Ground Café, in a country where everyone wants to say Hi and appreciate my work? I drink just like everyone does. People just take things too serious and it's a terrible thing. If I want to get drunk, I know exactly where to do that-my home. Thanks." Was her comment when she was contacted by www.nollywoodgists.com.
Alonge Michael EXCLUSIVE for www.nollywoodgists.com