I'm on my way to stardom, Says Vicky Njoku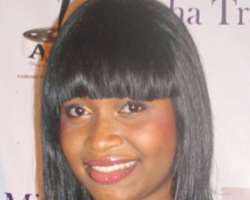 One is bound to mistake her for one of the screen goddesses. Endowed with good shapes and curves, Vicky Njoku (what a coincidence),is on course to redefine her destiny. She's drifting away from what she knows how to do best -modelling into acting to make her mark.
Vicky confirmed to HVP recently that she's currently on location working with one of Nollywood top directors.
Though she refused to disclose the name of the director, the 23 year-old Delta State born model believes that her delving into the world of make-believe will go a long way to strengthen her modelling career, as well as give her the edge to reposition for a greater challenge.
"I'm currently working with one of the biggest directors in Nollywood. I hope to make my first hit soon. It's a gradual thing." she echoed.
The young model said, she started her modelling career way back in her secondary school days, at the age of 16 years. Even though, she is delving into acting, young Vicky allayed the fear that she would soon quit modelling. " I'm not living modelling for acting. I'm still gonna be modelling because that's where my passion lies. I have strong passion for modelling. But I also have flair for acting."
Asked to give a brief insight into the movie that will launch her to limelight, Vicky only muted, "it's a movie to watch and we are keeping it under warp."
According to her, while she ventured into modelling, she has nobody to call her mentor. "Nobody really mentored me, because of the passion I have for modelling, I decided to go into it on my own."she said, adding that " while I was growing up, I used to stand before the mirror to admire myself as a model.
Today, it is a dream come through for me. Though, modelling has got its good and bad aspects. But all the same, I'm enjoying what I'm doing today."