Free Beat: Manpizy—Free Beat Season 3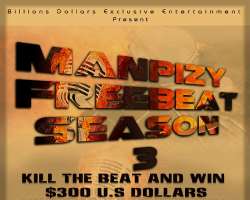 After Manpizy left his former label, and moved to Billion Dollars Exclusive Entertainment (Bdee) and decided to continue his free beat competition sponsored by his Record Label Bdee to keep other artistes busy and hard-working to archive their goals in life as musicians.
According to Manpizy, anyone that kills the beat best goes away with $300 US DOLLARS Cash according to the Ace Producer. Manpizy is a music producer and also an artiste recording under Bdee Recordz, a Lagos based record label.
Record the free beat and send to [email protected] For more info call 08172729542 or 08136084131.
So Download, Listen and Jump on it if you think you are the Doppest.
UNTAGGED DIRECT DOWNLOAD LINK
https://my.notjustok.com/track/download/id/117207