Growing up in Warri was harsh, but it inspired me---Singer Egbuna Nneka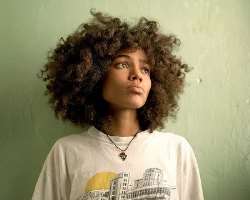 Nneka Egbuna gained her first public attention as a singer in 2004, in far away Germany. It was while performing at an opening act for reggae star, Sean Paul, at Hamburg Stadpark. Her first album, Victim of Truth, was released in Germany, England, France, Netherlands, Nigeria and Japan in 2003.
Nneka spoke with us recently at Ikoyi, Lagos, on her passion for the oppressed Niger Delta, growing up in Warri and Germany and singing at an early age. Excerpts:
"My name is Nneka Egbuna. I am from Amawbia in Anambra State but was born and grew up in Warri, Delta State. I am half German, and half Nigerian. I have been into music since I was young, but professionally for the past six years. I have released four albums. The first album was released in 2003 called Victim of Truth. The second was released in 2005 called No Longer at Ease and the third album was in 2009 called Thro and Fro. The last album I just released in America is called Concrete Jungle."
Growing up
"There are different challenges you have in growing up especially in a place like Warri. Warri is very harsh, but at the same time it inspired me. It inspired my music, my point of view. Growing up in Nigeria is an advantage to me as an artiste. You know when you are growing with beatings and floggings, you will be wondering why. But at a certain age in life, you will appreciate those beatings because they would have put you to shape."
Why Concrete Jungle?
"It is the first time I am taking my music to America. I released that album specifically for the kids. I decided to re-introduce Africa to America. Americans to see Africa in a new perspective because most of the times, they have these negative way like HIV/AIDS, poverty, operation, corruption. I decided to use that music to re-introduce Africa in a positive way."
Result of the message
"The message did get to them because I noticed that people became very positive especially to Nigerians in America. The music was not only to entertain them but also to educate them and change their views. They look out for the music especially when I talk about political issue and change in Nigeria."
Passion into music
"My life in generally, growing up in Warri, being who I am, travelling round the world, having the opportunity to go to Germany to release my first album. The encounter I had with different people. I did not have the opportunity to travel round the world because my parents are not that rich. I have been able to travel widely because I am doing music."
Sponsors
"I pay the band. I am tied to a record company like someone working for an oil company. So I am a product of a big record company called Fony in America and Fony BMG in Germany, they are in collaboration. I am basically their artiste. They give the money and during my performances, I recoup that money."
Challenges
"If you love what you are doing, people will not understand that you are emotional about it. Some people might think that because you are an artiste, you have to be rational, you are a businessperson, and you want to earn money and all that. It is not about money alone, entertainment alone. In my own case it is about the message, the politics and competence. The effort is the challenge to prove to people that you do not have to be another person to be accepted in this world."
Marriage
"I am not married and I am not in any relationship."
Why
"I do not know. Maybe I am so busy. But then one has to be careful you would not know who is real and who is coming because you are a television personality. I am into music for a reason. Music is like a therapy.
Music is like being in love. I am into Afro beat, African–Afro, hip pop, souls. I tried to use my traditional language to sing on the album. "I mix my languages, Ibo some use of English. I use a lot of Ibo, pigeon and Urhobo because speak Urhobo better than Ibo."
Damian Marley
"I am planning a tour with Damian Marley, the late Bob Marley's son. He likes my stuff in America. We are touring America, representing distant relativity which shows that Black people are all connected all over the world and that we all come from Africa."
Credits to BBC Africa.
Highpoint in life
"When people understand that there is nothing good about deceptive in life. The good life is about accepting and respecting one another truly from one's heart. I appreciate that."
Low point
"My low points are when I am misunderstood. Somebody into music can be very emotional. When you are emotional about many things."
Niger Delta
"I want the government and the oil companies to start employing Nigerians. Stop using expatriates and paying them heavily while Nigerians earn peanuts. The next is to be a brother's keeper. There is a lot of tribalism going on. If we are together, there is no way someone can come from outside and intimidate and oppress us.
If we see a white man, we kneel down and greet and think that he is bigger than us. It is no more about when the white man came to oppress us. It is high time we understand that we have all that we need to get there. We have all it takes to build this country. We have the intelligence, resources, the experience and awareness to move higher than where we are today."
German experience
"Education is free in Germany. Getting to know a different culture as an adult was an experience. I travelled to Germany when I was 20 years and lived there for five years."
Cooking
"I can cook African foods like Banga, Egusi owho soup and Edikan Ikang. I worked in a buka .My step-mother had a buka then and I used to assist her a lot."
Fond memories
"Killing the Christmas goat. The funny part of it is that you develop a relationship with the goat by feeding."