I can't marry an actress — Adebayo Tijani, movie producer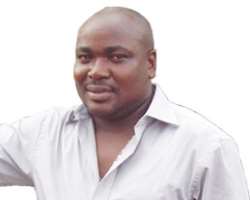 Adebayo Tijani, a movie producer, director and actor, is one of the gladiators in the Yoruba movie industry. Without doubt, 34-year-old Tijani, who has won several laurels for his outstanding creative efforts, seems to have his eyes fixed on the future. In this encounter with BABATUNDE SULAIMAN, the producer of Apesin, Iranse Aje, Abegbe and Ogun Aiku talks about his humble beginning, career, love life and challenges, among other interesting issues
It's generally believed that your movies are always a product of good research. So, could you tell me the driving force behind your success story?
First and foremost, I am very deep in the Yoruba culture and I love celebrating it. For instance, I always attend the Osun Osogbo Festival and some other festivals too. So, I celebrate the African cultures in my works, so that more people could be interested in them.
Could you speak briefly about your background?
I was born in Agbole Alubata in Oyo. I come from a family of bata drummers. I am at the moment working on a project, Echo of Joy; I believe the drum is an echo of joy. Most of my family members are drummers. Although I don't really know how to play the drums, I only know the theoretical aspect of it. I lost my father, who was a trader, in 2007. I went to the Federal School of Survey in Oyo Town, Oyo State, where I obtained my National Diploma in Survey and Geo-Formatics Engineering.
How long have you been in the movie industry?
I would say I started when I was in the primary school. While I was in the secondary school, I was the president of the theatre group. Also, at the School of Survey, I was the president of the theatre group.
Which of your movies will you describe as the most challenging?
It's Apesin because it was the first cultural film I ever shot in my life.
How many movies have you done produced so far?
I have produced eight movies: Durosinmi, 2000; Kajola, 2003; Ti' Igbin Ba Fa, 2004; Apesin, 2006; Ipa, 2007; Iranse Aje, 2008, Abegbe, 2009 and Ogun Aiku, 2010.
Why do you like to release a movie almost every year?
It is because of the society we are in. If I was in Hollywood, I might be shooting my movies every three years or thereabouts.
Why is it that you rarely act in movies?
First and foremost, I am a producer and director. So, I believe I have to choose one. In other words, why should one combine everything?
Maybe you are not a good actor?
No; I am also good at acting; I played about three roles in Ogun Aiku.
What do you set to achieve in the movie industry?
I hope to win an Oscar award or any other international award for my movies.
What is your worst experience in the industry?
It was when I was invited to a movie production somewhere around Amuwo- Odofin in Lagos State as a director. I got there and found out that the people involved knew nothing about movie production. But at the end of the day, I was able to do a good job. So, this made me think that there are a lot of mediocrities in this industry, which made me sad.
When will you describe as your happiest moment so far?
It was when I won the AMAA award in 2006.
Has any experience brought you to tears?
It was when I showed Apesin at the National Theatre, Iganmu, Lagos State. There was a movie that was shot with N7million, which was also shown at the National Theatre that day. They spent a lot of money for publicity more than I did. But at the end of the day, Apesin performed better at the box office; and I shed tears of joy.
What is the thematic preoccupation of Ogun Aiku?
It is about the fact that the best heritage that any one can leave behind in life is a child.
Are you married?
No, but I will get married soon.
Is your fiancée also in the movie industry?
No. It is not good for a banker to be married to a banker. So, I don't think it is good for an actor to be married to an actress.
Could it be because of some of the things you have experienced in the industry?
No, I just want my home to be different from my office.
What stands her out from the other ladies you may have dated?
Well, she is a Muslim.
Are you romantic?
It is my fiancé that can answer this question.
But are you?
Okay, yes, I am.
Who are your mentors in the industry?
Muyiwa Ademola is my boss and mentor.