Music: RGS (Aice X Baz X Ceekay}—Tell 'Em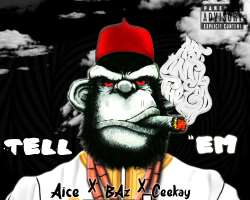 ​​#RGS Movement @itz_aice who teams up with BAZ and CEEKAY to cook up and serve you this Joint "TELL EM" as e dey hot! Great Song on an equally Subliminal HIP HOP Beat . This is a quality sound that you don't want to miss from it has the #RGS Movement beings.
Enjoy the Rhythm, & Punchlinez on this record and don't forget to hola @ your Boiz on your favorite Social Media,...
@itz_aice @theonlybazuka @mr_chux


DOWNLOAD LINK
https://my.notjustok.com/track/download/id/113502
DOWNLOAD STREAMING LINK.
https://my.notjustok.com/track/113502/music-rgs-aice-x-baz-x-ceekay---tell-em