MAN 'ARRESTED' OVER ATTEMPT TO BOMB NY'S TIMES SQUARE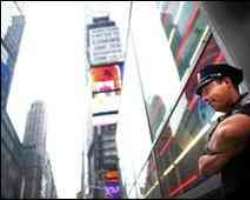 US investigators have arrested a suspect in an attempted car bomb attack in New York City, police sources say.
The arrest follows reports that police had discovered the identity of a man who bought the car used in the plot.
The vehicle was left in New York's Times Square on Saturday with a bomb made from fertiliser, fireworks, petrol and propane gas tanks.
The bomb was discovered and dismantled before it could explode.