Banky W Shows His Romantic Side on Set With Denrele & Frank Donga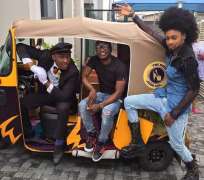 Working with Denrele, Frank Donga and Banky W on set will only leave you cracking your ribs once in a while. These guys know what it means to have fun and that was exactly what they did when they met.
While Frank Donga whose legendary face paid off when he was pictured and Denrele didn't disappoint either with his signature attire, it was only Banky W who went for the dog.
All these while fans have been asking Banky W to get married, maybe he has been perfecting his romantic side. The way he cuddled the dog can endear him to the hearts of many ladies who are looking for a strong and romantic man.
If he can handle a pet like this…We wonder how he can take care of his lady. We are just wondering a loud.
Banky W had captioned this moment "Good times on set today with Denrele, Frank Donga and the Dukester aka my Duke of Wellington"