See What Desmond Elliot Wore to Celebrate 1year Anniversary (photos)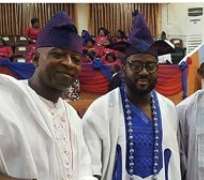 Nollywood actor, cum politician, Desmond Elliot, is just one simple actor and lawmaker that has come to be loved both on and off the screen.
The lawmaker is exactly a year older in his political office and this calls for celebration having looked back to see the few lives he has been able to impact.
Representing Surulere constituency, Desmond cannot start counting the smiles he has brought on so many faces and this has given him the opportunity to thank God and jubilate with some of his colleagues.
According to him, "One year as a lawmaker. Another great opportunity to say 'Thank you Lord' for this great opportunity to serve in this great state Lagos,these wonderful people of the state and good people of Surulere. I will never take it for granted ,for this is a Privilege and I say Thank you lord over and over again. It hasn't been easy but IT IS WELL."