Bombshell: Another Nollywood Beauty Queen Resigns After The Dethronement Of Her Colleague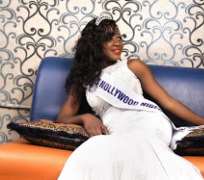 Following the much publicized dethronement of Former Miss Nollywood Culture and Tourism Grace Okoro Adaeze, Her senior colleague and the current Miss Nollywood 2016 Miss Blessing Ogar has also resigned today.
The Now ex beauty queen resigned citing the unfair treatment meted out to her dethroned colleague while also alleging that the organization which she was representing has defaulted in the various arrangements they agreed to pursue while demanding that she collaborate the lies the leveled against her dethroned colleague.
In her resignation letter made available to DiplomaticPorch, She alleged that the organization has defaulted on their previous agreements and defaulted in availing her of her entitlements as Miss Nollywood 2016 and have already started advertising for a new queen while they are yet to pay her the prize money.
She also alleged that the organizers of the pageant mandated her to collaborate the lies and allegations they leveled against the dethroned queen. a mandate which she says was against her conscience. She stated that she had better resigned because the organization would also dethrone her if she refuse to collaborate their lies.
See her resignation letter below:

Shekoni Aremuokin at 11:55 p