IBB'S CRITICS SHOULD TAKE UP FG'S CHALLENGE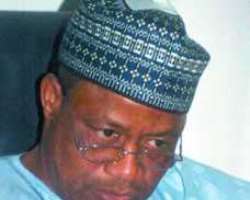 IBB
Miffed by repeated criticisms and allegations of corruption against former military president, General Ibrahim Babangida (rtd)since he declared his intention to run for presidency during the 2011 presidential poll, a non-governmental organization 'IBB FOR YOU' has dared critics to take up the recent challenge by the Federal government that any group or individual that has any proof of corruption against General Babangida to come up with it or keep quiet for ever.
According to the National Co-ordinator of the group, Mr. Jude Anaeto who spoke in Lagos , most of those criticising Babangida are doing so out of malice.
'Only God knows why these critics won't stop their tirade against IBB as if he is not a free Nigerian who has every right to aspire to any political office in the land. Since these critics have been condemning IBB and accusing him falsely, they have not been able to provide any shred of evidence of corruption or indictment against the man. To show that they are mischievous ,have you seen any of them coming out to give evidence of corruption against IBB since the Federal Government asked them to come out with proof of corruption against him if they have any?
Asking Babangida's critics to keep quiet for ever if they are not sure of their facts, Anaeto said:
'Babangida has been very magnanimous, he is indeed a true statesman, otherwise, he would have sued some of the groups and individuals for libel'.
Also while imploring Nigerians not to be hoodwinked by the antics of Babangida's detractors, Anaeto said the retired general still remains the best candidate for the nation's number one political office.
'Babangida still remains the best candidate for the job. Apart from having the experience, his government provided succur for millions of Nigerians across different sectors of the economy when he was in power as a military ruler. Coming back as a democrat, Babangida will do more for Nigerians' he declared.
Attributing Babangida's predicament to the handiwork of a cabal bent on sabotaging his return to power, Anaeto said the cabal has been responsible for series of hostile media reports against him.
'This cabal has been sponsoring a lot of negative reports against Babangida. But all of them are tissues of lies. Like the allegation that he hates youths, who can be a friend of youths more than Babangida? It was when Babangida was in power that he introduced the concept of new breed politicians, this was a scheme aimed at giving power to the youths. He also set up National Directorate of Employment to provide a platform for training and creating job opportunities for youths. One can go on and on' he stated.
Describing Babangida as a man of the people, Anaeto said 'since Babangida declared his intention, anywhere he goes he has been receiving a rousing reception. Nigerians have been receiving him warmly. I even challenge his critics to a popularity contest with him. Our group believes in Babangida, and we are even organizing a 10 million- man march for him in Abuja very soon.No court of law in Nigeria has indicted him for corruption. We will like to advise Babangida's detractors to stop swimming against popular tide.'
While expressing optimism that the retired General would clinch the Peoples Democratic Party,(PDP) ticket, Anaeto said Babangida would beat all other opponents if a level playing ground is provided for all the candidates.