Take Easy When Kissing My Wife- Shatta Wale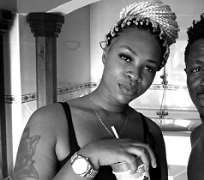 Shatta Wale is a very jealous lover! He is so jealous that he is begging that his wife, Diamond Michelle Gbagonah popularly called Shatta Michy should not be taken advantage of by male actors whenever there is a romance scene on set. It is not that he is not supportive of Michy, but he is scared of the romantic roles she plays in some movies.
Shatta is pleading with the male actors to go slow when it comes to romantic scenes especially during smooching and kissing roles.
He said"Oo my wife has always wanted to act, even when I met her, one thing she constantly told me was her desire to be an actress, so I'm 100% in support of her decision to act."
However, he said, "Acting is acting, I can't say she should play this role and she shouldn't play that role. All I'm begging with actors is that they should take it easy on her when it comes to kissing, smooching and other romantic roles. They shouldn't go far, I beg them."
The good thing is that the wife is also supportive of him. "My wife has been through the gutters with me especially during my early days of struggle into the limelight."