OVERLOAD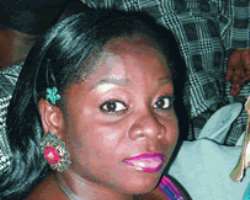 Hazardous
We all know you are well endowed, but this an unlawful display which could be hazardous to the viewing public. Exposing your MANU in public is punishable under Section 419 of the 1990 style edict. You are hereby sentenced to Kirikiri Medium Prison for three months with an option of N500, 000 fine.
No-No
Madam!! You are becoming a serial style criminal because you kept appearing in this court. My jury thinks it's high time you employed someone to kit you up. How come you keep having problems with your bra? Also this your eye shadow is just out of place and we think you need to visit the salon more often. We hereby recommend that you get your bra strictly from Mark and Spencer and please get your right size.
You have been
fined N1million.


.


Too much flesh
We don't understand why you should flaunt this mass of flesh in public. Mummy, this is so repulsive and the tattoo worsens your case before this court – Section 234 of the style constitution says that ' a bad product would still remain a bad product
no matter the re-branding.
You have been
fined N900, 000.


Mummy!
We tried so hard not to prosecute you but our fashion police is always arresting you and we kept granting you bail on self recognition. We know you are very fashionable but you kept committing same crime over and over again. We wonder how many bottles of foundation and powder you use in a week and to cap it all, your face is always in contrast with your neck. We will pardon you for the use of black eye pencil, but we need to place you on house arrest for the next three months, so that other women using this particular colour of foundation would stop complaining of its scarcity.


Two-count charge
Baring it all oftentimes doesn't make you the prettiest girl; rather it sends wrong signals. Aside that madam, you were caught using black eye pencil on your eyebrows. That is old fashioned. Are you trying to match your dress with your eye pencil? You are hereby sanctioned and ordered to appear at the nearest local government where you
would be directed to
help in clearing
the drainage.


Sinful bra
Wearing an alter neck dress with visible
straps just
sums up the defects of this outfit. This is so messy and you have been fined N800,000.