My Spilled Sweat And Blood For The Movie 8 Bars & A Clef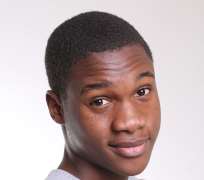 In this movie, there was an intense scene in the movie where my character's father was choking his mother and he ran out of the house down a small flight of stairs to her rescue. It was very intense and I tried playing it cautiously but the director yelled at me to be more aggressive, use more force. By trying to be more aggressive, I twisted my ankle on the stairs but didn't stop acting. I pressed on through the pain and finished the scene before collapsing as I could no longer stand on two feet.
Attached is a graphic video of a crew member rendering first aid to my affected leg. After that like I previously wrote, I was incapacitated for almost a week and on crutches.
The movie will be out next week Friday and my name still isn't on the cast list, i am still not included in the PR for the movie.
The entire reason for me taking time to make sure this gets out to the right journalists is to have my side of the story heard. Producers talk and I know a lot of people will have bad things to say about me but I want my story to be out there so when people hear bad things about me, they have my side of the story and can decide what is true and what is not.
I thank you all for reading this. I thank you for following up. I hope i have inspired someone out there to come out and stand up for themselves irrespective of the fear of being alienated. Nigeria could use more of that. Perhaps we can make this country safer by speaking up.
Samuel Robinson