Ladies Ensure you Have a Court Marriage, Tradition is Nothing…K1's Daughter, Dami warns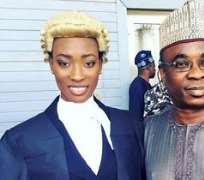 Dami Marshall, young daughter to legendary fuji singer, K1 De Ultimate, since being called to the bar some months ago, has not stopped in using her position to lecture people both entertainers and fans on what they need to know about the law.
Dami sometime ago revealed that she will soon be coming for some entertainers in the industry who steal other people's intellectual properties as she was about going for further studies.
Well, pushing music issues aside, the pretty lawyer has come out to educate ladies on the need of taking their man to marriage registry to solemnize their marriage.
She stated that this was important in a relationship because the high rate of marital issues was becoming too much. Noting that traditional marriage is nothing without court wedding.
According to her, "to young girls out there, never make the mistake of not taking your spouse to the registry. Make sure your marriage is under the act (court marriage) that's why a lot of us are facing some predicaments we can't talk about. Traditional wedding is nothing."