Omotola Jalade Shames Haters With Adorable Couple Photo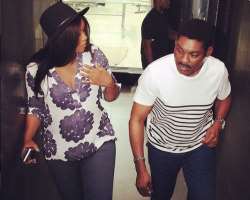 Some weeks ago, Nollywood icon, Omotola Jalade trended on social media over the kind of house chores her husband does.
The sexy mother of four, has left haters to continue hating while she keeps on loving her husband and he helps her with some domestic works like pounding yam, going to market and lots more.
Omosexy as he darling hubby calls her, shared the photo on her Instagram page and captioned it 'love who you love' with a ring emoji. So cute!