Obi's N1million Donations and False Philanthropy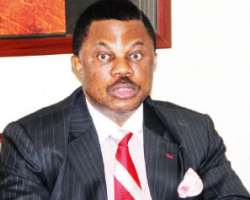 Often hypocrisy is dressed-up as virtue by politicians who take vain glory for little achievements. The unraveling of the former governor of Anambra State Chief Peter Obi whose increasing desperation for public adulation and craving for prolonged stay in the Nigerian power centers has betrayed the previous perception of the man as stoic, oft taciturn do-gooder and reluctant power monger.
It was Emmanuel Swedenborg who observed that "True charity is the desire to be useful to others without thought of recompense." Obviously this statement does not ring true with Chief Obi who has been going round schools in Anambra State taking photos with N1million cheque donation in the pretext of love for school children.
When Mr. Peter Obi arrived on the Anambra political scene in 2003, he was sold to the people as the antidote to the political gladiators who then plundered the state. Fast forward to 2015, and appreciate Chief Peter Obi's metamorphosis into an archetypal political juggernaut who cares little what becomes of society as he seeks to serve his whims.
It is now clear to the discerning that there is essentially no difference between the true Peter and those he wrestled power from. In essence Peter has gone ahead to consolidate his political gladiatorial personality such that he harkens to nobody, not institutions of government, tradition, or even religious authorities. What his predecessors and their sponsors exhibited in brazenness, Peter Obi tries to cover-up with guile and righteous indignation. But the life of falsehood is short.
It is fascinating that Peter Obi who shouted to high heavens when he claimed that former governor Chris Ngige was distracting him by inspecting roads while Obi reigned, is now persistently making the rounds to schools across Anambra for photo-Ops with N1million cheque donations. Although Peter tries to cover-up his real intent with the spurious claim that managers of the schools reached out to him, the truth according to those who know him is that the man is living his promise to ensure that his successor Chief Willie Obiano does not enjoy peace as long as the Governor fails to kowtow Obi's wile ways; as long as Obiano denies Obi the reimbursement he ferociously requests for 'graciously' handing over to him.
Unfortunately, Peter Obi's desperation got worse since his late quest for the Senate in the delayed re-run for Anambra Senatorial District. Granted that Chief Obi has the inalienable right to aspire for any office he so desires, he could still express such liberty with minimal hurt to the sensibilities of the people. He does not need the puerile hypes his political school visits are given.
In spite of the progress in education under Peter's Anambra, most of the school infrastructure remained largely dilapidated during a boom era when he controlled Federal Account allocations reportedly of up to N600bn; N400bn Local Government Allocation; average monthly state IGR of N500m to N600m, not to mention N60bn excess crude revenue to mention a few income sources. No wonder he could indulge in random spending and donations shortly before he left office.
It must be stated that this piece is largely an observer's response to the obvious mischievous tilt and polarizing activities of Chief Peter Obi in his new found love for the Senate rather than an inquest. I just wonder what might happen should the governor of the state, the urbane Chief Willie Obiano decide to bare his fangs against his benefactor who is cleverly stoking the fire on the sidelines, now that he is in bed with persons he supposedly derided and abhorred for eight years.
As an interested voter who loves the peace we now enjoy across the state, I arrived at these conclusions after careful review of the political gamesmanship and repositioning being orchestrated by Obi and his allies both within and outside the state just for the Anambra Central contest. I can't imagine what Obi's scheming means for the current Governor's second term agenda and the likelihood of a nasty battle should Obiano begin to take more than a passive interest in the Senate contest. It is simply on this premise that I urge for caution and ask anyone who can talk to Peter Obi; tell him to stop the phony photo-Ops because no one is deceived.
Ogadimma Enujioke writes from Ekwulobia ( [email protected] )
Disclaimer:

"The views/contents expressed in this article are the sole responsibility of the author(s) and do not necessarily reflect those of The Nigerian Voice. The Nigerian Voice will not be responsible or liable for any inaccurate or incorrect statements contained in this article."