Music: Joe Michaels – Adonai (Prod. Dr. D1)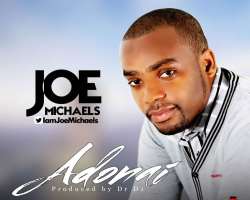 Fresh out of Lagos, Nigeria, here comes the long awaited gospel song "Adonai" by Joe Michaels.
"ADONAI" is a worship song with a contemporary gospel sound filled with words of prayers to usher worshipers into
the presence of the Father, with a feel good melody to capture the hearts of fans across all genres.
A gifted songwriter, lyricist and
vocalist, he has more than a
hundred written songs to his credit and
has worked with numerous acts.
"ADONAI" is his first gospel project and
his most focused material yet.
Redeemed by grace and guided by the
scriptures, His purpose for ministry is
solely based on Ephesians 4:11-15 and
Ephesians 5:19-20. God used his
passion for music to turn his life around
and it is what drives his passion
for soul winning and the edification of
the body of Christ through music
ministration.
Born Joseph Eromosele Michaels
Okonofua, on the 21st of October, in
Lagos,
Nigeria.
He hails from Irrua, Esan-
central LGA, in Edo State, Nigeria. A
graduate of Industrial Chemistry from
the University of Ado-Ekiti, Ekiti
State, Nigeria. He is a practicing Financial
Consultant by trade and a
gospel minister by the grace of God.
FOR BOOKINGS:
E-mail: [email protected]
Tel: +2347036577831, +2348124808420
Facebook: facebook.com/JoeMichaels
Twitter: @iamjoemichaels
Direct Link:
https://www.dropbox.com/s/3pee3tnulnaojas/Joe%20Michaels%20-%20Adonai%20%28Prod.%20Dr.%20D1%29.mp3?dl=1