How Wizkid Ruled the World in April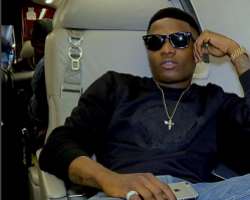 Three things happened in April for Wizkid that melted the internet. The first one was that he got into a war of word with Linda Ikeji. A dirty fight that landed him to the police station. However, this scandal never in a way affected his rise in April.
Then, we heard that he was hosted by Sierra Leone's president, Ernest Bai Koroma, when he came for the country's Independence concert. He was the first Nigerian artist to be so honoured in that country. It was a concert that gave him a lot of fans from that country. From there he went to Zambia where he performed too.
However,WizKid has sent Zambian revellers back home with frustration and flaring tempers.By 21hrs only 24 people had gathered at Heroes Stadium the venue of the much publicized gig. The organizers has released a statement to this effect "…To all those with tickets but left the stadium before the artist's arrival, WIZKID and the stadium are ready to for us to re- host the show this afternoon, considering we started late. However we shall inform you as soon as possible the way forward."
The second thing that got all us happy was that , Drake confirmed his feature in his Views album and, he was also credited as co-producer. This has earned him a lot of accolades till date.