Petroleum Leverage: The Creepy Sector Lingering Other Key Sectors Of The Nigerian Economy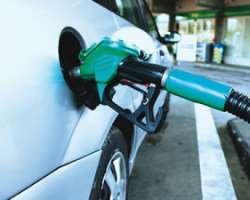 Nigeria is one of the most largest oil producers in Africa and is a frontliner amongst the world's exporters. 83 percent of Nigerian exports is oil.
But unfortunately, the controversy surrounding the oil crisis in recent time and at present has had a tremendous negative impact on the economy lingering other key sectors of development such as Transportation, Business Enterprices,Institutions and some other vital sectors of the economy which are dependant on petroleum ptoducts to enhance their enterprice or institution operation and productivity.
Crude oil continued to surge upward as at Tuesday, 26 April swinging 2016 hghs of $46 per barrels as at12:45pm on Tuesday. However, the current rise in crude oil price is a result of june 2016 trading the future,which is also planned to be nigeria's lowest export in 2016.
The recent hike in the price of crude oil has hindered other sectors of the economy.Despite the country's diversification effort,crude oil remains the major income earner for the country with the sub-nationals heavily depending on revenue from oil sales at the monthly federation Accounts and Allocation Committee(FAAC)to fund their activities.
The inflation in the price of petroleum products have caused many filling stations or supply stations to close or sell at extra higher prices.These exploitation has affected other key sectors of the economy,such as Transport sector.
Transportation fees have increased due to increase in price of crude oil.It has also impede the transportation of people,goods and Market commodities creating the plolicy of "The higher your load the higher your trasport fee or charges." The Crisis has also leveraged Market operators such as traders of consumer commodities to increase the prices of Market commodities such as rice,beans,maize,yams,cassava,fruit and virtually all sort of eatable and non eatable goods.Transportation is paramount for the movement and distribution of these goods or commodities from one region or market to another.
Industries and Business enterprises have also been leveraged by crude oil price acceleration and scarcity as many industries manufacturing and processing raw material requires petroleum product to generate alternative power supply due to inability of PHCN to produce maximum electricity.
In the same vein, business enterprises also are in need ane dependant on crude oil to facilitate the smooth runing and operation of their business.But unfortunately,as a result of the scarcity and rise in price in oil.These industries and enterprises are experiencing some form of hinderences in their operation and productivities which has also rendered raw materials costly.
Other sectors such as key institutions are also affected.In the area of education,institutions such as primary,secondary as well as university requires maximum electricity and depend on petroleum products to generate alternative power supply since PHCN cannot guarantee maximum electricity.Healthcare centers,ResearchInstitutes,Telecommunication Companies,Financial Institutions,Law enforcement agencies,The Media,Intelligence Institutes,Construction Companies and all other institutes are all affected by these petroleum leverage.These affected sectors are important elements of the Nigerian economy as they help in the growth and development of the economy.
The Interesting news is that The Department of Petroleum Resources (DPR) have imposed a heavy punishment or penality on any petroleum or supply stations that boycott or sell fuel above the official price of 85 Naira per liter placed by the goverment. The Petroleum sector of the economy is a major sector that needs to be properly managed and regulated devoid of corruption in any shape or form in order to avoid creeping of other important sectors of the Nigerian economy.
Long Live Nigeria!
Khalil Ibrahim Lawal
Disclaimer:

"The views/contents expressed in this article are the sole responsibility of the author(s) and do not necessarily reflect those of The Nigerian Voice. The Nigerian Voice will not be responsible or liable for any inaccurate or incorrect statements contained in this article."