See What Popular Telecom Company Marketer Wore to Advertise her Product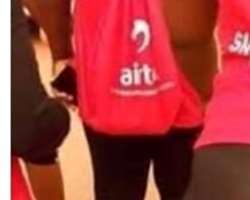 With the rate at which fresh graduates flock the Nigerian labour market, one is left with no choice but to wonder how the poor economy of the country is going to accommodate all of them.
Some weeks back, fresh corpers were in jubilation for completing their one year mandatory service to their fatherland and lots of them have taken into all forms of jobs just to keep body and soul together and one of that aspects is marketing.
Recently, a lady who needs to make a decent living for herself got employed by popular telecommunication company in Nigeria and she was asked to go market the company's product to potential clients which did in the best way she can.
Her dressing alone is what will sure attract big men to try the smart phone network which promises to be the best as the marketer's panties was in full glare for investors.