Yoruba Actress Mide Martins Vs. Husband Afeez! Full Details Their Broken Down Marriage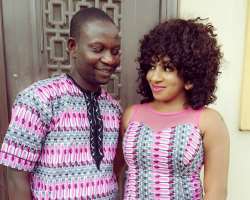 Talk about drama…2016 has been a year of revelations!
SAN FRANCISCO, April 19, (THEWILL) – Each month sees one celebrity in the news for one reason or the other and April isn't proving to be any different.
Nollywood actress Mide Funmi Martins and her actor/producer husband, Afeez Abiodun also known as Afeez Owo marriage has hit the rocks going by her recent revelations.
The actress who came under fire for refusing to publicly send a message to her husband on his birthday, and accused of packing out of her matrimonial home due to infidelity among other accusations, on her own birthday (which is 34 hours after her husband's)levelled some serious allegations against Owo.
Mide who has been married to her husband for 13 years and blessed with two kids, apparently got angry after he shared photos of their kids on Instagram
From her lengthy post on Instagram which she has since taken down, she revealed that her husband was the one that packed out of the house leaving their two daughters, their 2 cousins and the maid all alone in the house for the past 3 months to fend for themselves. According to her, he is trying to destroy her career and kill her.
Read what she wrote below:

A day after her public outburst, the actress was rushed to the hospital by a colleague following the trauma she suffered, reports Naij.
The cause of her hospitalization remains unknown.