My wife is imprudent…Seyi Law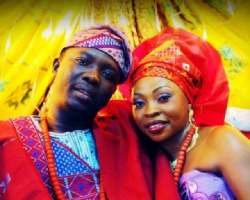 Ace comedian, Seyi Law and wife, Stacy Ebere, have been married for 5 years, while some marriages are packing up, this couple remains firm despite the ups and down their marriage has encountered.
The couple celebrated their fifth wedding anniversary with a renewal of vows on Sunday, April 3, 2016, as a way to rekindle their love for each other.
In a recent interview, the comedian, who has been rumored to be a womanizer, disclosed that he loves his wife very much and would never cheat on her.
''I have never cheated on my wife. Not because I didn't have cause to want to cheat. I know how to flirt with ladies, sometimes, we get carried away but the most important thing is realizing ourselves and retracing our steps.''
He went on to say, he is a kind hearted person who loves to give a lot, and he also married a woman who is more loving and kindhearted than him.
In his words: ''my wife is kind to a fault. As much as I give, she gives also. I used to look at it; one of us should be the prudent one. I cannot tell her to stop giving. God has showed up for us because of the giving attitude.''