Police arraign housekeeper for allegedly killing employer's mother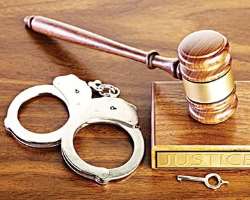 An 18-year-old Beninoise housekeeper, Christian Yavine, was on Friday charged with killing his employer's mother at an Ikeja High Court.
Yavine, whose residential address was not given, is facing a charge of murder.
The News Agency of Nigeria (NAN) reports that the charge was interpreted from English Language to French through an interpreter to Yavine.
Yavine, the accused, however, denied committing the offence.
The prosecution led by Mr Akin George told the court that the accused committed the offence on July 1, 2014 at Block 74, Flat 2, Ijaiye Low Cost Housing Estate, Pen Cinema, Lagos State.
'The accused unlawfully killed one Mrs Mariam Abiola, his employer's mother, by stabbing her with a knife on the throat,' George said.
He said that the offence was a violation of Section 221 of the Criminal Law of Lagos State, 2011.
The News Agency of Nigeria (NAN) reports that Yavine's employer, Mrs Ajoke Akinsemoyin, and her brother, Mr Olawole Abiola, were in court as witnesses for the state.
Justice Oluwatoyin Ipaye remanded the accused in prison custody and adjourned the case till May 11 and May 12 for trial.