Nollywood actress portrayed as a prostitute cries out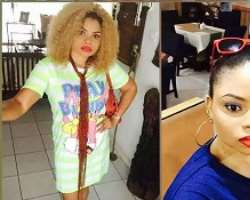 Our movie industry has no doubt stepped up their game with a lot of top notch professional actors in the block.
Many of their movies have won local and international awards and have also premiered in foreign cinemas.
In a matter of few years the industry might just be among the best in the world.
Not many are daring enough to pick up some daring roles, but the few who did are actually not spared from the tongues of many.
Few weeks back, pictures of an upcoming movie surfaced, which had some actresses exposing their oranges fully.
This got criticism from many who claimed it was too extreme, and as Africans, things ought to be done moderately.
One of the actors, Peace Maria Francis, cried out for being called a prostitute for playing that role, rather than being appreciated as a professional actor.
In an interview with Nollywood Insider, she said she is not after money or fame, but after her passion.
"I unfollowed Davido when he said life is all about money, I am not after money or fame, many said I am a paid prostitute, but I am just a good actor who takes her job seriously." She said.