FALZ The Bahd Guy Announced As Host On The Bigger Friday Show!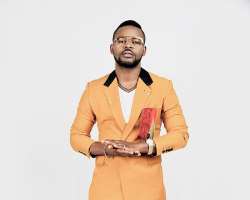 A new season of popular Friday night comedy programme 'The Bigger Friday Show' is set to premiere with a twist in the coming weeks.
Previously hosted by Basketmouth as 'The Big Friday Show', the new show sports a revamped format and it will be hosted by rapper and widely admired Internet phenomenon Falz The Bahd Guy.
'The Bigger Friday Show is one of the revamped entertainment shows on MTV Base as the channel seeks to make young African audiences the center of its content and deepen audience participation and interaction.
The past edition of the show featured parody videos, celebrity pranks and entertainment news highlights.
Viewers can also be part of the new edition and participate in the #BFSChallenge by submitting personalized content on Facebook, Instagram and Twitter using the hashtag #BFSChallenge
The show, which is a mixture of entertainment and comedy, is part of the sparkling new entertainment campaign led by MTV Base called 'My Life, My Base' and it will premiere on MTV Base Channel 322 on Friday April 29, 2016.