Tiwa Savage Woos in Her Wana Sambo Ensemble Outfit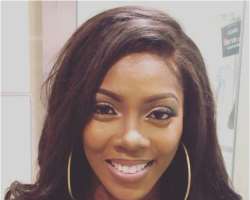 We saw so many fabulous outfits this week and we would begin with blue Wana Sambo Tony Pair that Tiwa Savage won. The outfit had showed off her svelte figure and she was simply breathtaking in the outfit that had left her with wide pant legs and cut out sleeves.
She had captioned the picture "Feeling great in this @wanasambo piece... This is a beautiful caption that I saw from @sarahjakesroberts page and it really sums up a lot about how I feel right now...'sometimes bouncng back isn't about reaching an ideal weight or size. It is about embracing the new skin you are in. Who wants to bounce back to the way things were? You can't make the best of the present if you are still longing for the past"
She is cool.