Yoruba Nollywood Actress Mercy Aigbe-gentry, Opens Up On Acting Nude, Second Marriage & Amvca Outfit Frenzy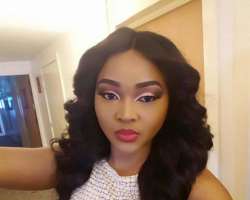 SAN FRANCISCO, March 29, (THEWILL) – Popular Nollywood actress, Mercy Aigbe-Gentry recently spoke with Punch  
on the Yoruba movie industry, the discrimination against Yoruba actors, her husband's reaction to her romantic scenes in movies, her now-famous AMVCA dress among other things.
See excerpts from the interview below!
On kicking off her career in the Yoruba movie sector:
I didn't choose to be in the Yoruba movie sector. I started out in Nollywood and I featured in several soap operas and movies. My career took a different direction when a Yoruba film producer cast me in his movie titled Ara. The movie became a hit and I soon began getting scripts from other Yoruba filmmakers and I couldn't turn them down because I had just launched my career. In no time, I became a household name in the Yoruba film genre.
In between this time, I worked with Lancelot Oduwa-Imasuen in his movie titled The Other Side of the Coin.
On why she thinks actors in the Yoruba movie industry are discriminated against:
I really don't know why and it has been on for a very long time. However, we have started to get better recognition unlike what obtained in the industry four years ago. The gap is already being bridged and I think it is only a matter of time. I think we Yoruba actors also need to let people know that we are also a part of Nollywood and demand to be respected like our English counterparts. Our works will speak for us at the end of the day. I think it is about time we are respected, so the gap that currently exists can be closed.
On actors in the Yoruba sector tagged illiterates:
This is one area where I have a problem with people's perception of Yoruba actors. Many people think we are uneducated and can't speak good English. I think people are not informed, so whenever someone tells me they are not aware I speak proper English, I simply laugh it off.
On if she will eventually stop acting Yoruba movies:
I can never stop acting Yoruba movies because that industry made me who I am today. As a matter of fact, a lot of people don't know I am from Edo State. When I began featuring in Yoruba films, I wasn't speaking the language flawlessly, so I had to learn on the job. My industry is very accommodating and that is why I would always be grateful to them for accepting me and giving me a platform to excel. I also produced a movie titled Osas in order to connect with my  Benin roots.
On what roles she can't take up even if the price is right:
I can never act nude because it is against our culture and my beliefs.
On how she's been able to keep her home:
It hasn't been easy and this is actually my second marriage. Before I got married to my present husband, I asked God to make this my second and last marriage because I want to stay married. Our marriage is under scrutiny all the time and a lot of people just want to find faults even when there are no faults. My previous marriage taught me to be more patient, tolerant and prayerful.
On her AMVCA outfit that sent social media into a frenzy:
People haven't stopped talking about my dress. So many people aren't even aware that a young, creative Nigerian fashion designer made the outfit. We shopped for the fabric together, agreed on the style and God made it a hit. I arrived at the award venue with a team and a back-up dress even though we had settled on a dress. The outfit earned me more followers and some people have even requested that my designer make the exact dress for them as their second wedding outfit.