Presidency opens up on how N3tn saved in TSA will be spent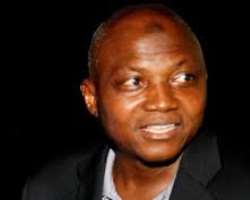 Garba Shehu, the Senior Special Assistant to President Muhammadu Buhari on Media and Publicity, confirmed Sunday that the Federal Government had set aside N3 trillion for projects in 2016.
This is money saved in the Single Treasury Account of the Federal Government.
Shehu spoke with newsmen on the sidelines of a dinner held to celebrate the child dedication of Paul Ibe, the Head of Atiku Media Office in Abuja, said that  Buhari's government would ensure contractors are mobilised and paid for executing jobs. He urged Nigerians to be patient with the All Progressives Congress, APC, led government, saying  it would deliver.
"Unlike what we had in the past, this government will award contracts and back them up with money to ensure their conclusion.  Nigerians will be happy in a short while; let us just have a little more patience,"  the SSA said.
She  attended the event to identify with Ibe who is a long standing companion.
He said that the Federal Government had saved more than N3 trillion in the Treasure Single Account, TSA. On her part, Titi Abubakar, wife of the former Vice-President, Atiku Abubakar, said the hardship being faced by Nigerians at present would not be long.
Responding, Ibe said the reason for the gathering was to give thanks to God for wiping away his tears. He said God had renewed his commitment to mankind -that if man remained consistent, his words would be fulfilled. Ibe said he had waited for long for a child, adding that with persistence, God would always show His glory to those who trusted in him.