HON. JOHN LARWISA FUNERAL SERVICE ON SATURDAY, MARCH 26, 2016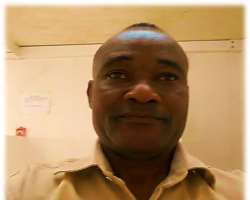 Hon. John Lar-wisa, the longtime freedom fighter of Ogoni has been among the most dedicated and most outspoken since after the hanging of the Ogoni Nine, including Ken Saro-Wiwa. Lar-wisa, who died recently will be buried on Saturday, March 26, 2016 at his home town, Bane in Kenkhana Province .
The cause of his death has not been determined.
Until his death, Lar-Wiwa was the elected Leader of the Ogoni National Legislative Assembly, ONLA and Director of the Ogoni Environmental Protection Agency, OGEPA, of which he was the first appointed administrator.
Lar-Wisa, for decades, also served as Secretary of Amnesty International Group 17 in Nigeria and has nearly 20 years of community and public service.
Prior to his appointment by the Central Assembly of MOSOP, Lar-Wisa coordinated the Ogoni team that monitored the United Nations Environmental Programme (UNEP) Ogoni Environmental Assessment.
Lar-Wisa had initiated international dialogue and shared information on due process as he had tried to persuade the UNEP team to comply with the UNEP, World Bank and Nigerian guidelines for conduct of EIAS to ensure acceptable outcome and smooth implementation.
Lar-Wisa also worked as design and draughtsman/engineer with NISSCO Ltd, Warri; Naval Draughtsman with Witt & Busch (Shipyard) Ltd., PH., senior CAD Designer with Point Engineering, PH, Field Engineer with Aveon Offshore Ltd., PH. Sec., NUPENG – NISSCO, Assistant Secretary of PENGASSAN – NISSCO and assistant secretary of Bori State Movement and in several other capacities.
Lar-Wisa studied Civil Engineering and also held a Bachelor of Science degree in Political Science.
On behalf of the family and the Ogoni Central Indigenous Authority, OCIA, we invite his friends, admirers and members of the media to come join us in Bori and later in Bane - where his remains will be interred.