Robbers Attack, Withdraws TVC Staff's Salary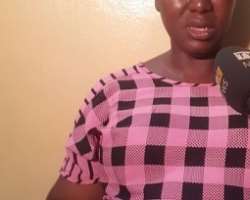 It is rather a sad week for TVC producer, identified as Toyin Ibrahim, as she was reportedly robbed and assaulted by notorious 'one chance' bandits on Wednesday, 9th, 2016.
According to a report by the Nation newspaper, the producer, alongside with four other commuters, had boarded a commercial bus at Ketu bridge heading towards Berger-Magodo, when they were suddenly attacked.
Report has it that the criminals had attacked her and other passengers barely two minutes after she had entered the bus, collecting the phones and cash and taking the victims' Automated Teller Machine (ATM) cards to withdraw money.
According to her, "Two minutes after the vehicle took off one of the robbers began to hit me. He asked me of my ATM pin number but I gave him a wrong number. When they tried the numbers and discovered that the pin was a fake one, they descended on me, hitting and booting me with their heavy shoes. I had to tell them the truth, giving them the three pin numbers of my GTB and Skye Banks cards. As they were beating me, I bit one of them and he became angry and tore my jeans trousers. He wanted to rape me. I was saved by one of them who warned that there was no time for that.
"The company just paid my salary and I was hoping to withdraw some money yesterday. The robbers have withdrawn all. It was a 14- seater bus. I wanted to sit at the second seat at the back of driver's seat, but the conductor said that was his seat so I had to go to the last seat. I and four other people were victims. They were stepping and marching me very hard. I would have died if they had succeeded in raping me. Even as they were doing that, they pushed two victims down on motion. They injured me in the head. I am still spitting blood. They stole my three ATM cards, one phone and the N3,000 in my pocket. They robbed other victims too."