I Incurred Lots of Debt The Day I Married Lilian Esoro…Ubi Franklin Reveals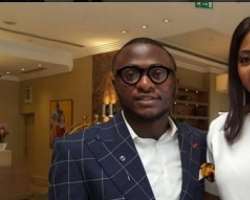 Triple MG co-owner, Ubi Franklin is still carried away by the love he has so much for his wife, Lilian Esoro, who is a year older today, March 9, 2016.
Ubi, who never let go his wife from his side while wishing her happy birthday expressed the amount of debt he got himself involved in while falling in love and willing to make her his wife.
The record label boss, since getting married to his wife, has not stop showering her with various praises just to keep explaining the level at which he adores his wife despite the whole challenges they faced before they finally walked down the aisle.
"I amassed a massive debt on the day I got married to you, the debt of unconditional love and undying commitment. I promise to keep repaying this debt until my very last breath. The woman, who managed to make me like soap operas and hate using dirty washrooms, deserves a standing ovation on her birthday. Good times or bad, happy or sad, just one look into your eyes is all it take, happy birthday love," he wrote.