Dencia's Company Fires Toke Makinwa's Cosmetic Line Over Theft Allegations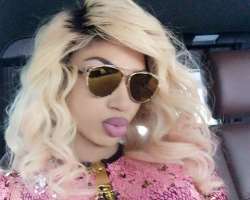 Controversial entertainer and entrepreneur, Dencia, has come out blowing hot at Toke Makinwa and her new cosmetic company, Macran Cosmetics for using the photographs of her clients (Dencia) to lure the clients into buying their products.
The Whitenicious boss, Dencia, is yet to say anything about it as her PR team got the hint after a fan had called her attention to similar advert she had used on her social media about her clients testimonial and the same advert was spotted on Toke's company's page.
The team sure will never take things easy as she had to immediately call the attention of the company to take off the advert and be legitimate in their business.
According to her, "It has come to our notice that Toke Makinwa's company known as mecran cosmetics is stealing images of Whitenicious success stories and results to post on their Instagram account and also send these images to their customers via text, what's app and other SM platforms. This is a PSA, please refrain from using any material and falsifying and erasing our water mark, we aren't connected to any of these fake brands and we will be suing you and your company if you keep stealing our images and lying about it being yours, we own the rights to all our images as this are from Whitenicious customers. If your products don't work please don't lie to customers just find a way to make better products. I understand your skin was lightened before you started selling these meaning you have never used it to lighten your skin so you need to steal images just don't steal them from Whitenicious. Thanks for the tip @rarohlee.Management."
To avoid any further embarrassment, Macran Cosmetics, immediately deleted the picture and claimed that it was uploaded by an overzealous staff who no longer works with them but issued an apology to that effect.
Read below;
With regards to the postings from Dencia making news we have a few things to say.
1. The before and after picture put up was as a result of an overzealous member of our creative team who has since resigned.
2. Mecran is poised to be a wide range cosmetic brand with skin lightening as one of the services we provide.
3. Our brand ambassador Toke Makinwa is not the one who put up a picture as she is not a member of staff and all affront should be directed at Mecran Cosmetics.
We apologise for this incident and we promise to pay more attention to the activities on our social media pages. Thank you. Management Mecran Cosmetics.