Anita Joseph Flaunts Her Asset at Friend's Wedding (Photos)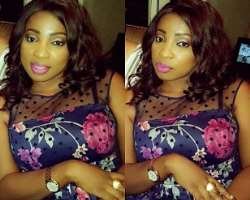 If there is one thing curvy Nollywood actress, Anita Joseph, loves about herself it is how God has blessed her good physical endowment which she cannot stop flaunting.
The actress some few days ago in attendance for a friend wedding and she could not help it but give some breath taking postures of her endowment all for the glory of her creator.
Still single though, the actress has to a large extent stayed away from making controversial headlines as she has been buy working underground and making more money. She has been able to curve a strong niche for herself but some fans are wondering when she will eventually walk down the aisle with her secret man if any.