How Female National Youth Service Allegedly Escaped Being Raped at National Assembly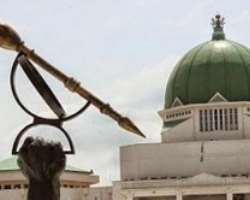 Fashion is sometimes abused by some Nigerians. Being fashionable does not necessary need one to be naked.
The way some people actually dress makes one think if they actually have a mirror at home.
The adage that says dress the way you want to be addressed is still functioning. All the name of fashion some people dress in an uncultured manner.
A photo recently surfaced, that got me people talking, though the face of the woman was not shown, but she actually revealed too much.