Dj Khaled & Kim Kardashian Collaborating? Find Out What It Is Here!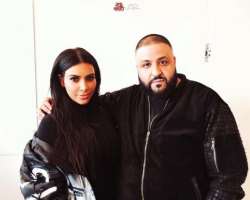 SAN FRANCISCO, February 27, (THEWILL) – When we first saw this picture of DJ Khaled and Kim Kardahian, we dismissed it as just one of those pictures; But it would appear that the two moguls are working together on a big project.
DJ Khaled revealed this in an Instagram post earlier today writing, "Major Key alert! I'm up to something!! And when I say "something" I mean something MONUMENTAL!!! There's a thing called mogul talk boss talk…and then there's a thing called LEGACY TALK!!!! I keep hearing build your brand, build your brand…tell 'em I said build your brand & LEGACY!! Be the ones people talk about 100 years from now when they talk about icons because when bosses share the same vision, history gets made. Stay tuned. @kimkardashian x @djkhaled #WeTheBest"
Kim also shared a selfie of the both of them and captioned it, "Mogul talk".
While we're not sure of what exactly this 'monumental' thing they're working on is, one thing we do know for sure is that it is not a new music.