Fred Amata Now President of Director's Guild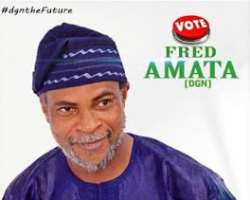 Prolific actor cum director, Fred Amata has emerged the President of the Directors Guild of Nigeria (DGN) after the election conducted in Asaba, Delta State today, February 26, 2016.
The veteran who also doubles as an actor was declared President-Elect of the guild, after beatings his close rival, Lancelot Imasuen with 5 votes to emerge the winner of the election. Amata got 48 votes, while Lancelot got 43 votes.
Meanwhile, Dickson Ireogbu and Kingsley Omefe 3 votes and 7 votes respectively. With his victory, Amata will succeed Andy Amenechi who resigned as the president of the guild prior to the election.
The new President had contested three times for the same position, before he finally held the trophy of victory some hours ago.