MIKEL WILL BE FIT TO PLAY FOR NIGERIA AT WORLD CUP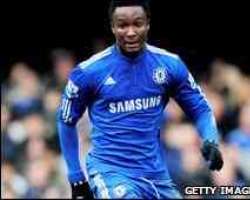 Nigeria say Chelsea's John Obi Mikel will be fit for the World Cup
The Nigeria Football Federation says midfielder John Obi Mikel should be fit for their World Cup warm-up match with Colombia in London on 30 May.
There had been doubts after the 23-year-old suffered ankle ligament damage at Tottenham last Saturday.
"Fortunately the damage does not limit his chances of playing at the World Cup as feared," NFF spokesman Ademola Olajire told BBC Sport.
"He will be able to take a major part in training sessions," he added.
"Mikel and Chelsea confirmed that he suffered an injury setback, but he should recover quicker than thought."
He will however miss the rest of the season for Chelsea as they battle for the English Premier League title and the FA Cup.
Meanwhile, the NFF have revealed that the only confirmed friendly match for the Super Eagles before the World Cup will be against Colombia on 30 May in London.
They are still trying to organise a game with Latvia on 23 May as well as one three days later against either Iceland or Honduras.
"But the team is expected to begin an official training camp London from 21 May," Olajire added.
Nigeria are drawn in a World Cup group alongside Greece, Argentina and South Korea.