FRANCIS BACON PAINTING RETURNED TO HEIRS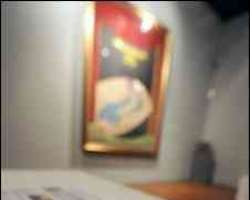 The museum has continued to display the painting throughout proceedings
A museum in southern France must return a Francis Bacon painting to his heirs, a court has ordered.
It was loaned to the museum of the Van Gogh Foundation in Arles a year before Bacon's death in 1992.
In an earlier court case, it was ruled that his Homage To Van Gogh piece could stay with the museum, which said it was a permanent gift from Bacon.
The appeals court ruled the work must be given back to the heirs of Bacon's friend John Edwards, who died in 2003.
Mr Edwards, a long-time companion of the painter, was Bacon's main heir.
"The painting was not given as a gift, nor was there any promise of a gift," the court in Aix-en-Provence, north of Marseilles, said in its ruling.
"The association must therefore give back the painting without delay."
Artist's record
The Van Gogh Foundation, which had said it had evidence proving that Bacon had gifted the painting, said it was "in shock" at the ruling, but that it would now "bury the hatchet" with the heirs.
Lawyer Bernard Jouanneau said the foundation may appeal but that it would give the painting back in the meantime.
The work was Bacon's homage to Van Gogh's The Painter On The Road To Tarascon, a self-portrait painted near Arles in 1888.
Irish-born Bacon was one of the 20th Century's most successful artists, earning about £14m before his death, aged 82.
In May 2008, a Bacon masterpiece broke the artist's record at auction after selling for $86.3m (£56.1m) in New York.