Soul E Escapes Ghastly Accident (Photos)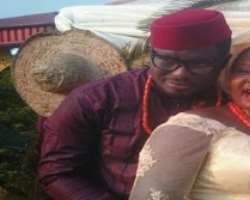 Years back when the music industry was still picking up, the likes of style plus, soul E Baba, and a lot more where the stars then, they entertained fans with lovely songs that were well appreciated in those days.
Soul E Baba later left the circular music industry and joined the gospel sector after he claimed to have gotten a calling. Though he has not been heard off for a while, as he wasn't able to hit it big, but he was still doing his music in a low key.
The singer turn prophet was recently in South Africa with his wife, and they miraculously escaped a ghastly accident. The vehicle was damaged beyond recognition, and it was by the special grace of God they came out alive.
The couple is however grateful to God for sparing their lives and they had this to say; "The devil is a loser, this is the car I just came out from with my angel, no life was lost, everyone totally well. I give God praise for his grace upon my life,"