At Last Nigerian Artist Wins A Grammy Award!!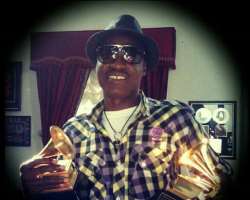 Nigeria is a blessed country with different creative individual. Recently, sound sultan shared a photo holding 3 Grammy awards.
We know that's not true, someone creative manipulated the photo to make it look real, it's called Photoshop, just for the fun of it and also driving home a message.
However, we are looking forward to the day Nigerians would also bring home a Grammy award, it might look farfetched right now, but with hard work and perseverance, we will get there.