Billionaire's Wife Caroline Danjuma Single Again? (Photo)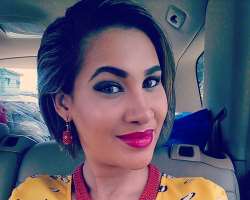 While some of her colleagues had and still having fabulous, romantic valentine experience, actress Caroline Danjuma shared a worrying post on her page where she talked about being single.
The Billionaire's wife who had constantly been involved in social media fight with her husband's alleged mistresses, shared a meme reading, "Single and fabulous," adding the emphasis, "Exclamation point."
Since, the mother of three posted the captionless photo, her Instagram page has been on fire as her post raises concern especially from her followers who kept asking if everything was alright.
"What happen baby?" An IG user asked, but Ms Danjuma has remained mum, while the post stays without caption.
Recall that Canadian beauty Jyoti Matharoo and also, American singer Charisse Mills were accused of being in a relationship with Caroline's Billionaire husband.
Is the actress turned make-up artiste tired of her marriage or just seeking social media pity?