Actress, Uche Ebere Agu Shed Tears, Yet Still Have Heart to Love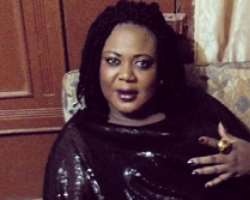 Nollywood actress, Uche Ebere Agu, is no new face to the Nigerian movie industry with over 20 movies to her credit but the actress has been threading silently in her own world with best reasons known to her.
Recently, the actress was awarded at the University of Nigeria (UNN) for her exemplary life and encouragement. Yes, she might deserve the award but the actress has a true story to tell behind her journey so far in life.
Unveiling how she has been able to manage her way to the top, the actress explained that she has suffered so much in life as she has been heartbroken, abandoned, betrayed and shed many tears but she has been able to come out strong.
"This woman has fought a thousand battles, and she's still standing. She has shed a thousand tears, and she's still smiling. She has been broken, betrayed, abandoned, rejected, but she's still walks proud, laughs loud, lives without fear, loves without doubt, this woman is very beautiful. This woman is very humble, this woman is me, and the lord's doing," she said.