I'm Not Ready to Share my Love with Any Man…Actress, Sapphire Obi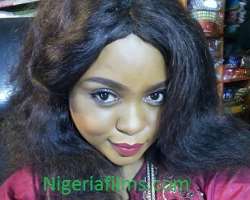 Love is a special and complicated emotion which is quite difficult to understand. Although most people believe that love revolves around the heart, but many believe that it actually occurs in the brain.
Gradually becoming a household name, fast rising Nollywood actress, Sapphire Obi, might be that jovial and fun to be with actress especially while on set, but she definitely have her rules when it comes to love issues as she has had a bitter experience of what love is all about.
Speaking with Nollywoodgists.com about her sad experience in her brief union, the actress stated that it will be much better if she shares her love with her two lovely boys than expressing for any man.
The actress emotions was triggered when Nollywoodgists.com asked her how she will be celebrating her valentine but she interrupted by stating that she "does not believe in love."
She stated that "Agape love is the only true love that exist and sometime Phileo but for Eros, it is simply lust."
Explaining how deeply hurt she has been, Sapphire noted that "sexual love is not love," adding that "I don't have sexual urge and when I want to satisfy myself, I do it when I want not when I feel. It is a decisive action."