Waje Reveals Those That Stood By Her While Struggling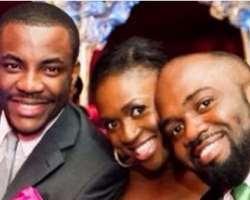 Everyone has one story to the other to tell in their life's journey and singer Waje, is one of such whose story is worth listening to anytime she is ready to share it.
The singer recently disclosed that attaining stardom was not easy for her as she will go to events to perform and sometimes people will just be staring at her as if she was singing to herself.
She disclosed that the only two people who got her back while coming up were TV personality, Ebuka Obi Uchedu and Noble Igwe.
Waje was prompted to make this revelation while celebrating Noble Igwe, who recently turned a year older as she disclosed that he really stood by her and helped her smile to the bank.
"I swear there was a time only these two will stand up at a show to cheer me (laughs) but my shout out today is to my brother Noble Igwe. I don't think I have successfully shown him how much I appreciate the sleepless nights on my matter. The drives to gbagada to make sure a song we both love was produced, or how many meetings he had on my matter for investors to drop money. How many times we have gathered and celebrated JUST BECAUSE. I love you brother and I see where God is taking you and so you know I got your back. Happy birthday noble Igwe 1 of ima kwa Ndi anyi Bu community where I am a full member of the congress," she wrote.