COZA Pastor, Biodun Fatoyinbo Living Large and Enjoying Life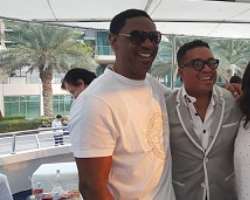 When a Pastor does the work of God with all his heart, he sure has to eat from the temple as the mercies and favour of the Lord continue to abound in his life. Such is the tale of popular Nigerian Pastor Biodun Fatoyinbo, of Common Wealth of Zion Assembly (COZA).
Pastor Biodun, celebrated his birthday with a lavish dinner party at the 7-star Burj Al Arab hotel in Dubai on the 22nd of January 2016. This was followed with an all white Yacht party and finally a Thanksgiving service on Sunday at the new COZA Dubai.
Some of those in attendance to celebrate the man of God were, Dr Mike Murdock, Tye Tribett, Rev. Funke Felix Adejumo, Anny, DJ Ernesty.