Access Lagos City Marathon is a Tourist strategy for Lagos state… Commissioner of Sport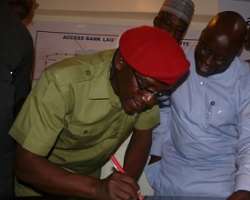 Today, history was made. The first of its kind, Access Bank Lagos City Marathon which took at the National stadium Surulere and making its stop at Eko Atlantic. This event attracted 150 professional foreign athletes with a total of 25,000 participants for the race.
The event which commenced around 7.10 am had in attendance dignitaries from sport sector and top governmental personnel's. In attendance was the Lagos state governor, Governor Akinwunmi Ambode, Federal Minister for sports, Hon. Solomon Dalung, the chief of defense Army, Commissioner of police, and the MD of Access Bank. The MC of the occasion was no other than Gbenga Adeyinka and the guest performer was Olamide.
Events like this has a way of bringing Nigerians together as one, as Nigerians were seen right from the starting point throughout the routes to the finishing point cheering and encouraging contestants. Many had high hopes that one of our own would win the grand price but that hope was crashed.
The competition was in categories, the male and female category, male paralytics and female paralytics' category. The male category was won by a Kenyan, Abraham Kipton with two hours, 21 minutes and 20 seconds. The second position was also won by a Kenyan, Hosea kipkembe and Debebe Toise of Ethiopia emerged third.
For the female category, Halima Huseen of Ethiopia emerged winner while the second place was won by Alice Timbul from Kenyan and Aberash Fetase from Ethiopia came third. The first three female Nigerians to complete the race were Oluwaseun Sara, Mary Akor and Yohanna Donatu.
The first three male Nigerians was Philip Asharuputu , Ilia Pam and Peter Maham. In female special athlete's category, Ann Babalola came first and Chieme Obeta second place. For the male category, Adullahi Muazu came first, Shola Opaleke second, and Shefil Odeleye third.
All winners were quite happy and cheerful as they received there prizes and had the chances of taking photographs with top officials in Nigeria sport. In a speech said by the minister of sport, he said the event is meant to promote the states tourist status and more of it would take place in coming years.