I Drink Coke and Biscuit When People Gossip About Me… Solomon Akiyesi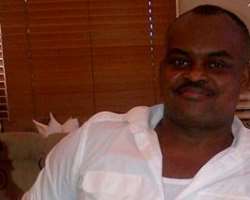 Controversial Nollywood actor, Solomon Akiyesi, is currently fuming with the way his name has been dragged into the mud for a while after it was rumoured some weeks back that he was hospitalized for an undisclosed sickness.
The actor recently came out to rebuff the rumour while attacking some section of the media who feels they can use his name to make a living.
According to him, "Some of these ragamuffin, wannabe bloggers and journalists are so deceptive, using my name like a contraceptive. I hope they get burnt since they won't learn. What good do they derive from telling damaging lies about me, telling the world that I'm sick and hospitalised when I'm in my house drinking my coke and eating my biscuit?
"Whoever wishes me evil will first be buried. I AM NOT SICK AND HOSPITALISED. People should get their hands on better things to do than forcing themselves in other people's shoes. Everyone cannot be a blogger. If you are not Linda ikeji or Stella dimoko korkus, then you are not......no matter how you try."